Birthdays are always a cause for celebration in my books, but milestone birthdays are the ones you'll always remember.
It is essential to celebrate these ones.  The best way to make a milestone birthday a memorable one for both the guests and the birthday guy or gal is to get everyone involved.
This year was my Grandma's 80th birthday. That's a milestone worth celebrating! I started getting crafty and here's what I came up with to make her 80th birthday one that she would never forget!
80th Birthday Photo Display Board
This was a party hit! People loved being able to look at the photos of my grandma throughout her life. The guests and family members loved it more when they were able to find themselves on the picture board.
To create this display board, I purchased a black tri-fold display board from Staples. Using construction paper and some burlap ribbon, I created a banner for the top of the board. With some extra cardboard I had lying around the house, I cut out a large 80 and mounted it to the board. I wanted the centre of the board to have some depth so, to match the 3D banner above I also made the 80 3D by gluing some cardboard scraps behind it to raise it off the back board. The last step was to add the pictures! I chose to make the images in the 80 slightly different then the other images, therefore I printed them in black and white.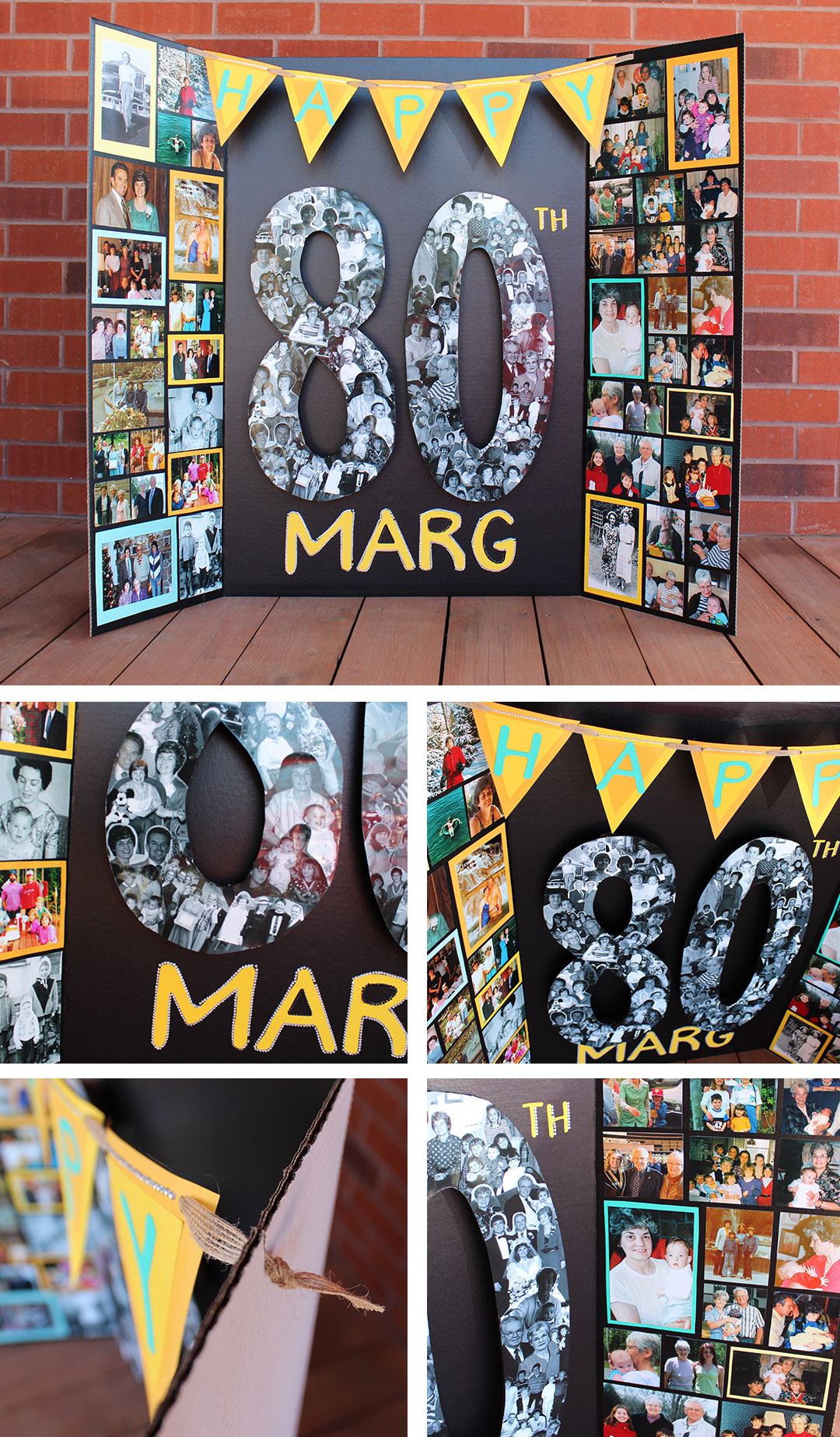 Family Garden
My grandma has made a lot of friends over the years through church and barbershop, so I had anticipated that there were going to be quite a few people at this party who may not know each other. I created a family garden to show the members of our family. This also made a cute decoration for her to keep, as we don't have a large family group photo. (It's almost impossible to get everyone together at the same time!)
If you have current photos of everyone in your family, this is simple to make. If you don't, you might have to Facebook creep them (and look for an appropriate picture for grandma) which takes a bit longer. You will need skewers, green plant foam, a pail, construction paper and glue. You can buy a pail from just about any store, but this one with the chalkboard front label came from Michaels. Trim the green foam down so it fits perfectly in the pail. Cut the flowers out of the coloured paper (use an assortment of colours OR the guest of honour's favourite colour). You should double the number of flowers you cut out so you can glue each flower together over a skewer stick (sandwich them together). Glue the photos on each flower and then stick them into the foam in the pail.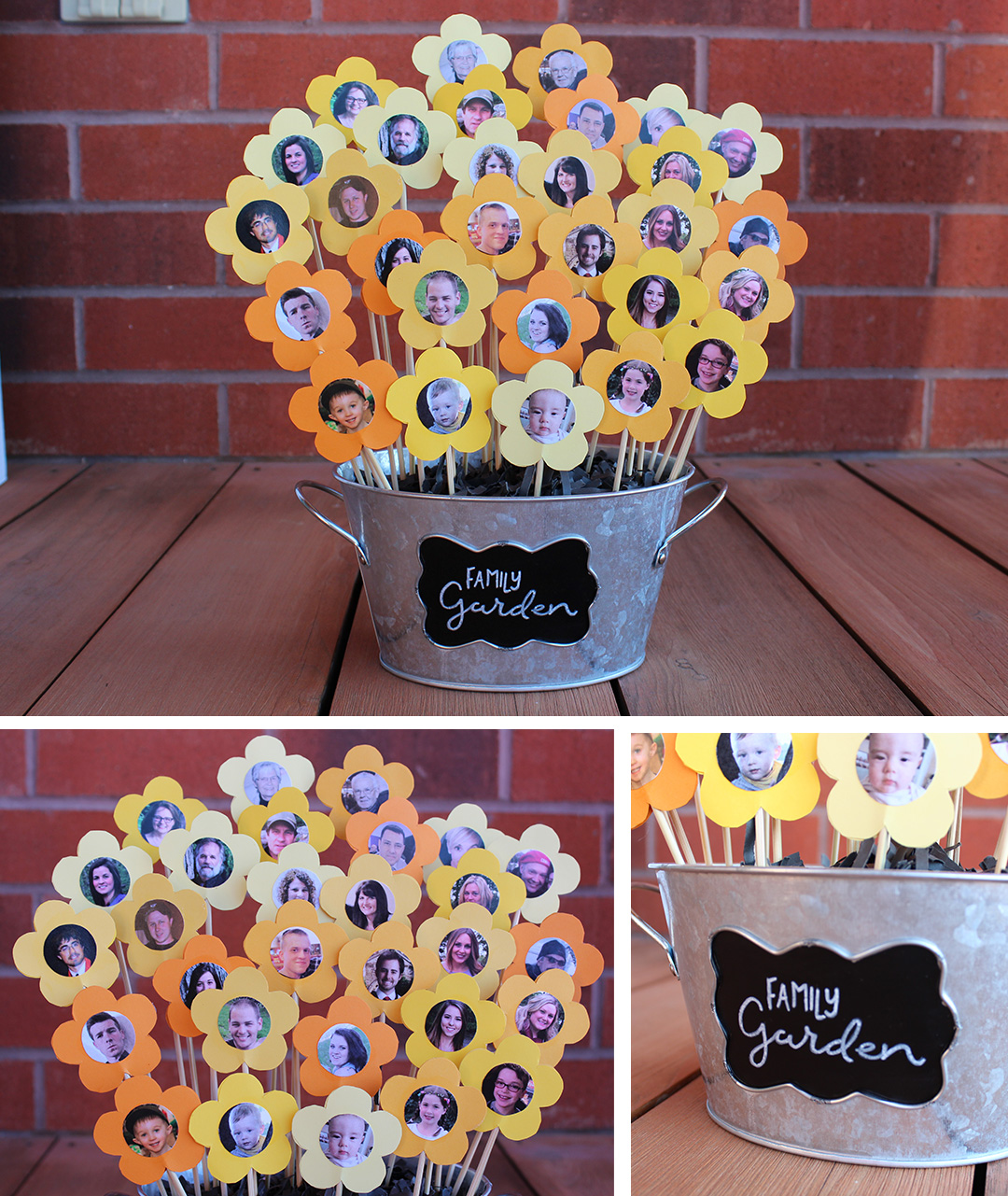 80 Years Ago Back in 1936
I definitely recommend doing this! People loved the fun facts from when the guest of honour was born. This is always a conversation starter, plus people love recapping on life events.
Some of the fun facts I used were:
What things cost
World Population
Sports – World Series, Stanley Cup, NFL Champions
People Born in 1936
Popular books and films
Inventions
Hit Songs
President and Prime Minister
Architecture Events
Another idea for a simple keepsake is a picture framed for the guest of honour where guests can sign the picture frame matting and leave a nice message. Grandma really liked that one too.