Let's face it, with everything going on in the world right now (COVID-19), I think it's safe to say we are all feeling a little trapped. I know I am. There's only so much Netflix a girl can binge watch.
Now is the perfect time to organize your pantry with clear containers, mason jars and labels. What a FUN activity! (Yes, organizing your pantry is fun)
I'll even provide the FREE printable labels for you!
Baking Supplies, Pasta & Food Staples
These are the big guys. The items in your household you always seem to have and need. For us, these are baking ingredients, pasta, rice, coffee beans and pancake mix (there literally isn't a weekend we don't have pancakes).
I like to keep these in my OXO containers. I am literally obsessed with everything OXO. I highly recommend investing in a couple of these. They come in a variety of sizes and have an airtight seal.
I purchased a pack of these containers from my local Costco a while ago with the anticipation that one-day I would re-vamp my pantry game. You can find these containers at most kitchen stores like Kitchen Stuff Plus or Amazon.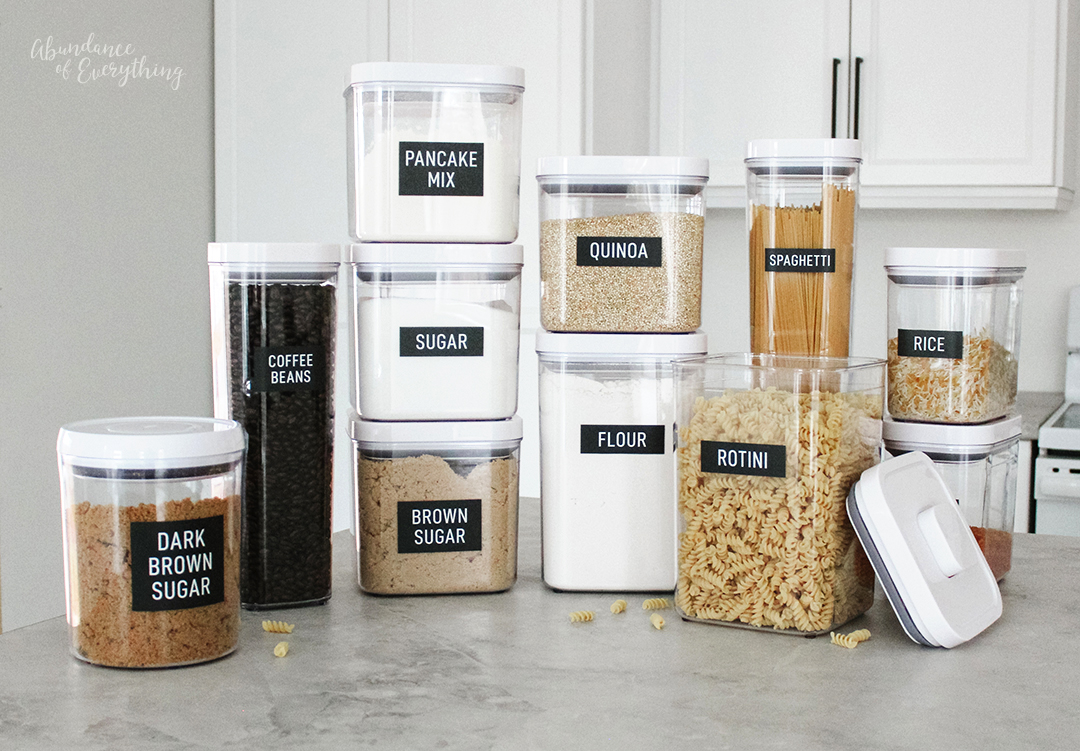 ORGANIZATION HACK: Don't just label the front; label the back too!
I labelled the back of my containers to remind me what the ratio is for cooking rice and quinoa, as well as the ingredients I need to add into my pancake mix.
Reduce, Reuse and Recycle those old food containers
Large/medium mason jars are great for storing things like coconut, chocolate chips and baking powder. They have a large mouth, which makes it easy to scoop out your ingredients.
I used the President's Choice salsa jars. Salsa is a staple in our household and I love that these jars have a black lid. Perfect to re-use!
Just make sure to wash the jars good so your contents don't taste like salsa (or don't, if you like the taste of salsa flavoured chocolate chips – yummmmm).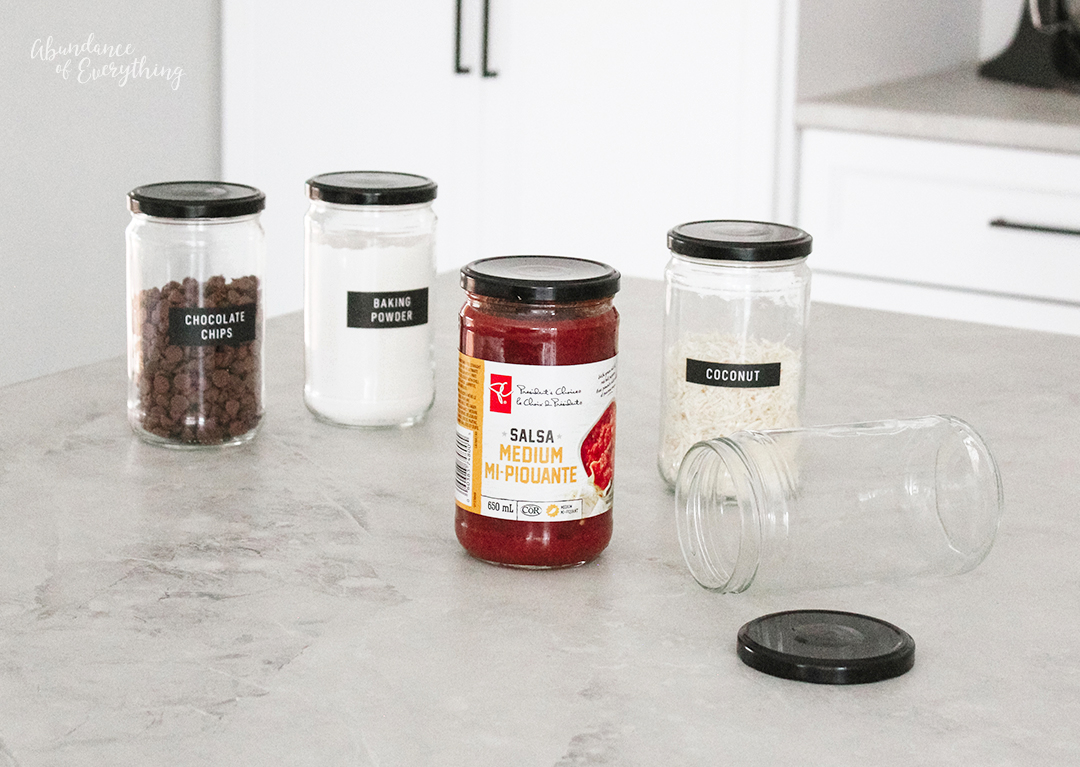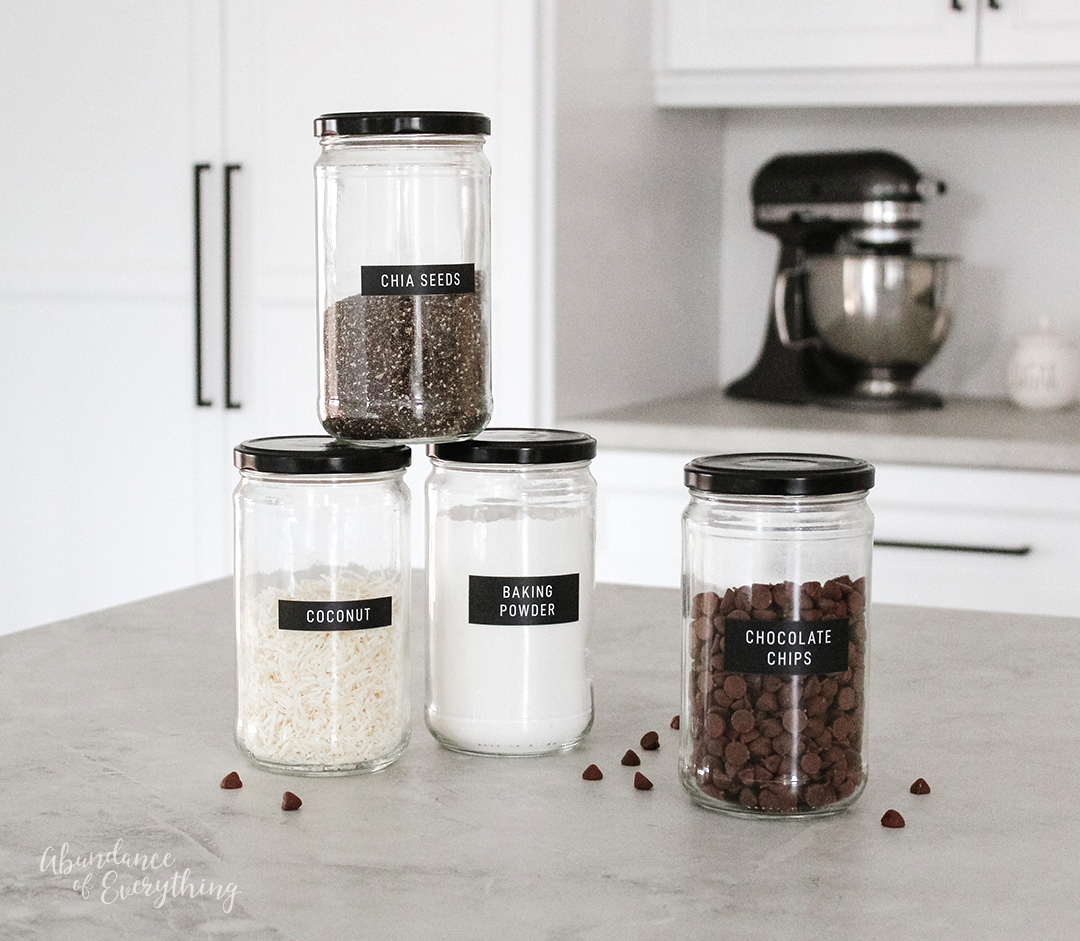 Let's talk SPICES
When you buy a spice at a grocery store, they could come in bags, plastic containers or glass jars varying in sizes depending on how much you need or what brand you buy. The containers will never match and my OCD cannot handle that.
Bulk Barn's Reusable Container Program
I recently took advantage of Bulk Barn's reusable container program and it's amazing. If you haven't used this program, you simply bring in your own containers from home, go directly to the cashier so they can weight your jars, and then fill them up.
I thought the cashier would be annoyed with how many jars I had (33 jars in 3 different sizes), but they weren't. In fact, the checkout process was just as fast as it normally would be if you didn't bring your own containers. To help speed up the checkout process, I would recommend you pre-labelled your jars. This is also a great way to remember what you need to buy.
It cost me just over $15 for 33 different spices. Mind blown. I highly recommend going to Bulk Barn for ALL YOUR SPICES.
Here are my recommendations for spice jars:
Large/Medium Spice Jars
Bernardin just recently came out with a smooth regular mouth mason jar. It is LIFE CHANGING. No fancy floral or fruity embellishments on these babies, just clean, smooth, clear glass. The smooth finish makes them super easy to label and the wide mouth is a perfect size for tablespoons.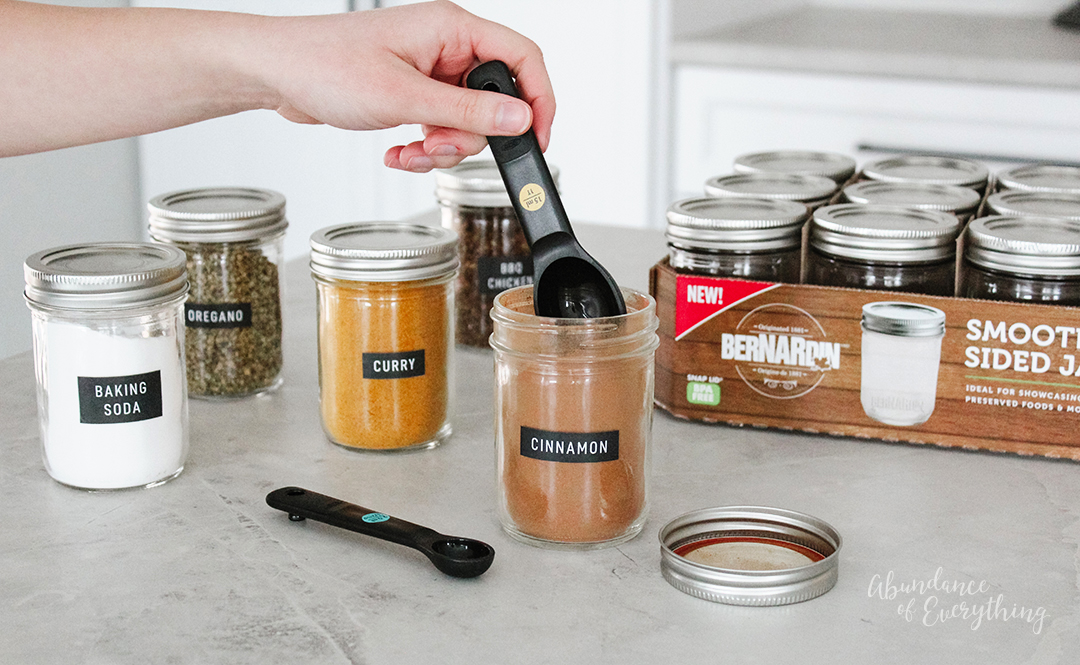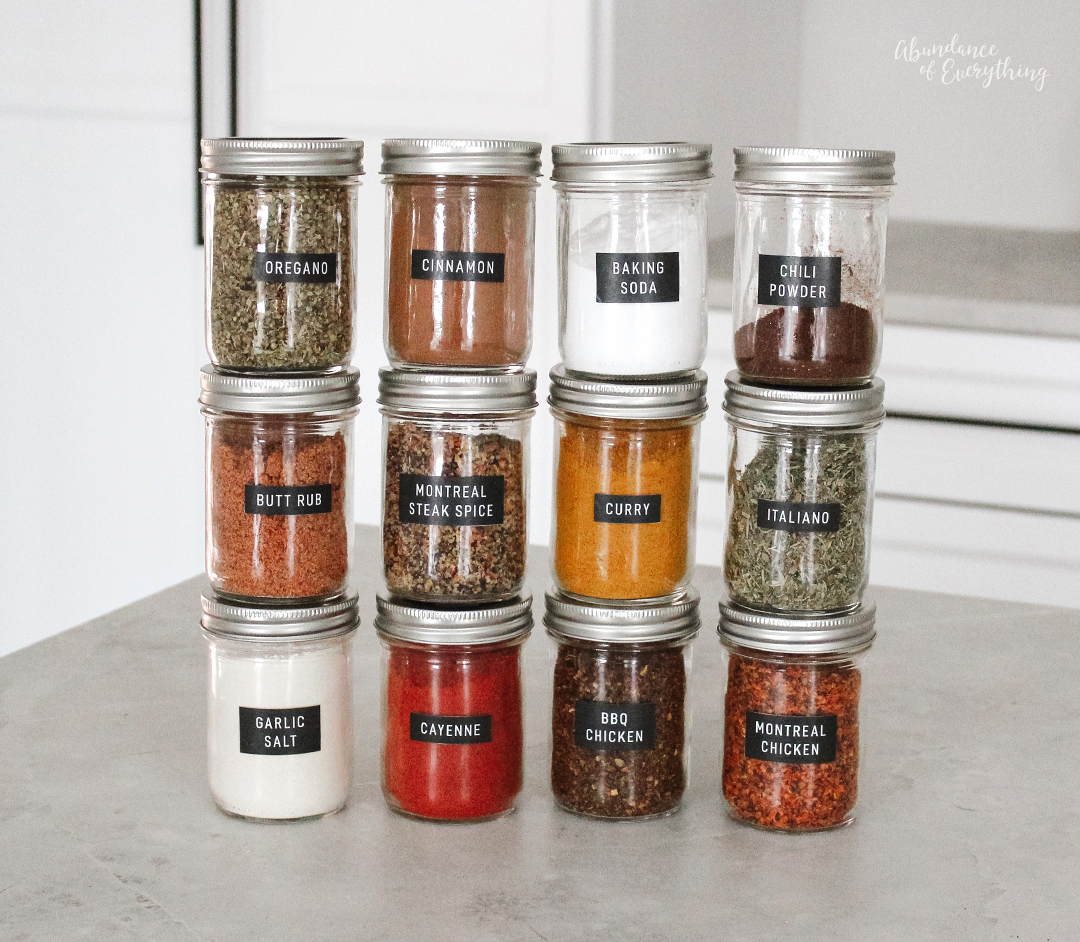 I scored a WICKED deal on these mason jars last summer at the Real Canadian Superstore. They were $2.95 for a pack of 12 and I had a $2 off coupon making these $.95 + tax a pack. LIKE WHAT?? I lucked out.
You can purchase these from any Walmart or Amazon.
ORGANIZATION HACK: Glue the mason jar lid and band together
If you are going to be opening and closing these jars a lot, it can be super annoying to adjust the lid and screw on the band every single time. Instead of buying the replacement 1-piece lids – make your own!
Use the lids you were given and super glue the jar lid and band together.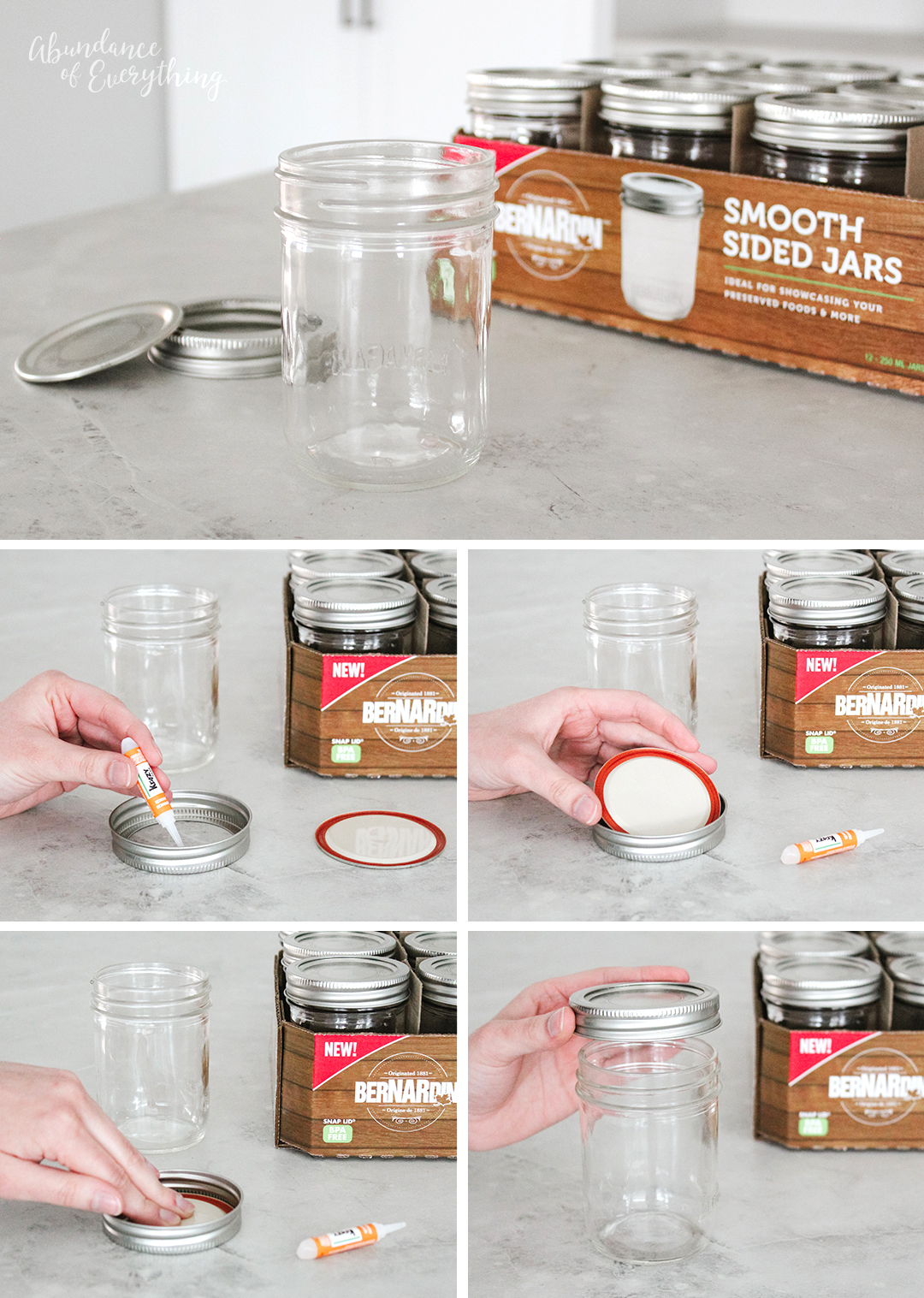 Small Spice Jars
When I'm baking or cooking I very rarely use the shaker lid that most spice jars come with. I often have to fight to take it off and then my measuring spoons never fit in the jars because the mouth isn't big enough. PET PEEVE.
I found a set of cute Ball® 4oz mini mason jars on Amazon. They are PERFECT. Although, I did recently go looking for more of these jars on Amazon and they didn't sell them anymore.
However, you can purchase these jars from FENIGO. I wish I knew about this store sooner. FENIGO is a Canadian company located in Waterloo, Ontario. They have the greatest selection of zero waste lifestyle products in Canada and amazing prices. Yay, eco-friendly!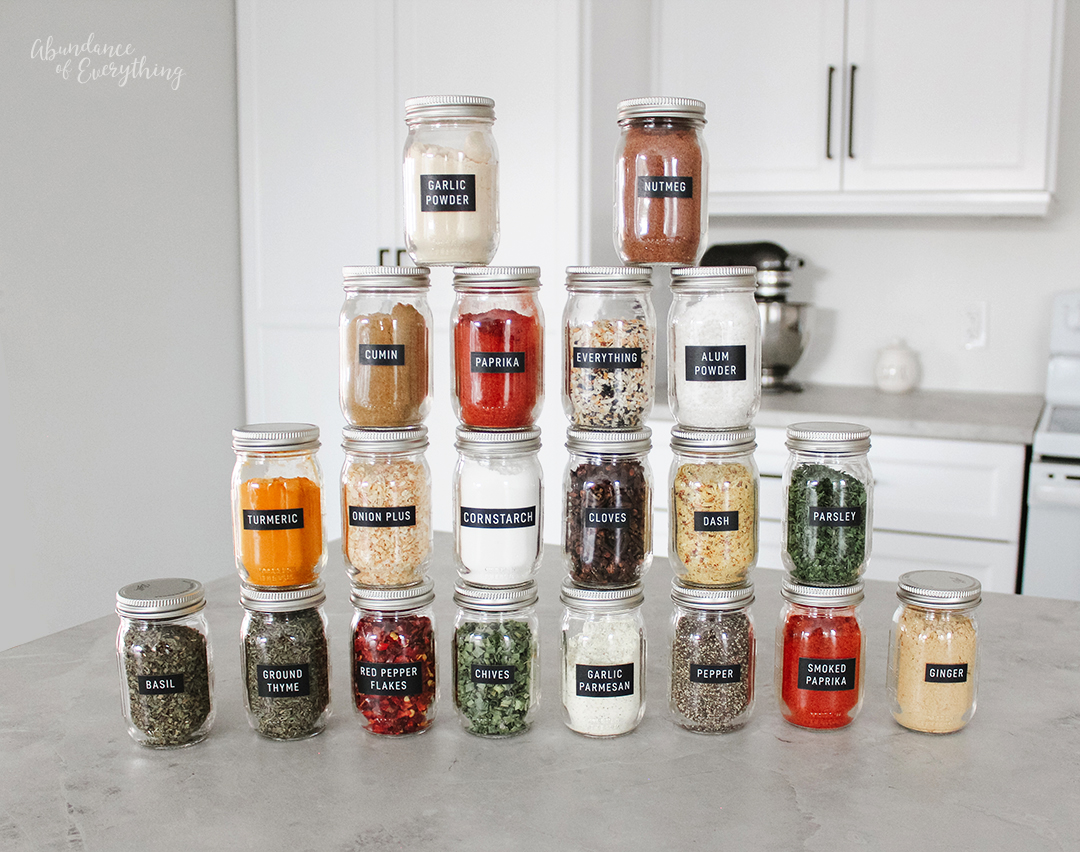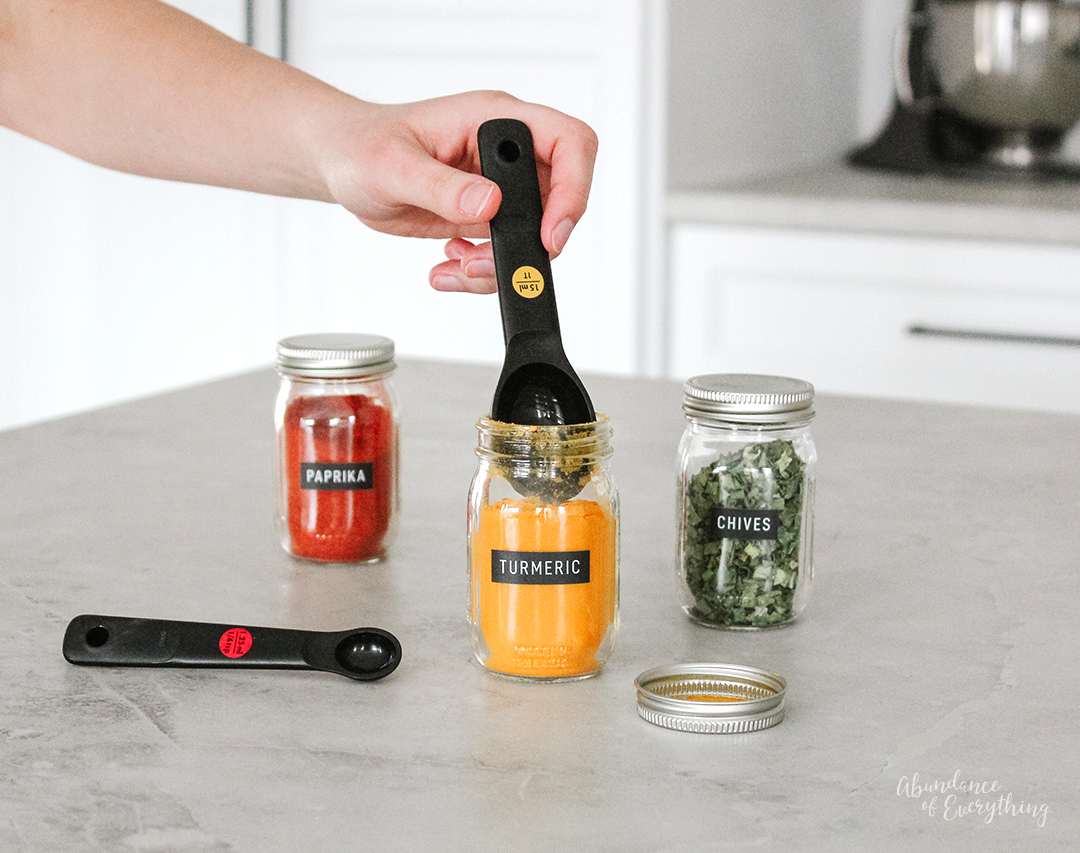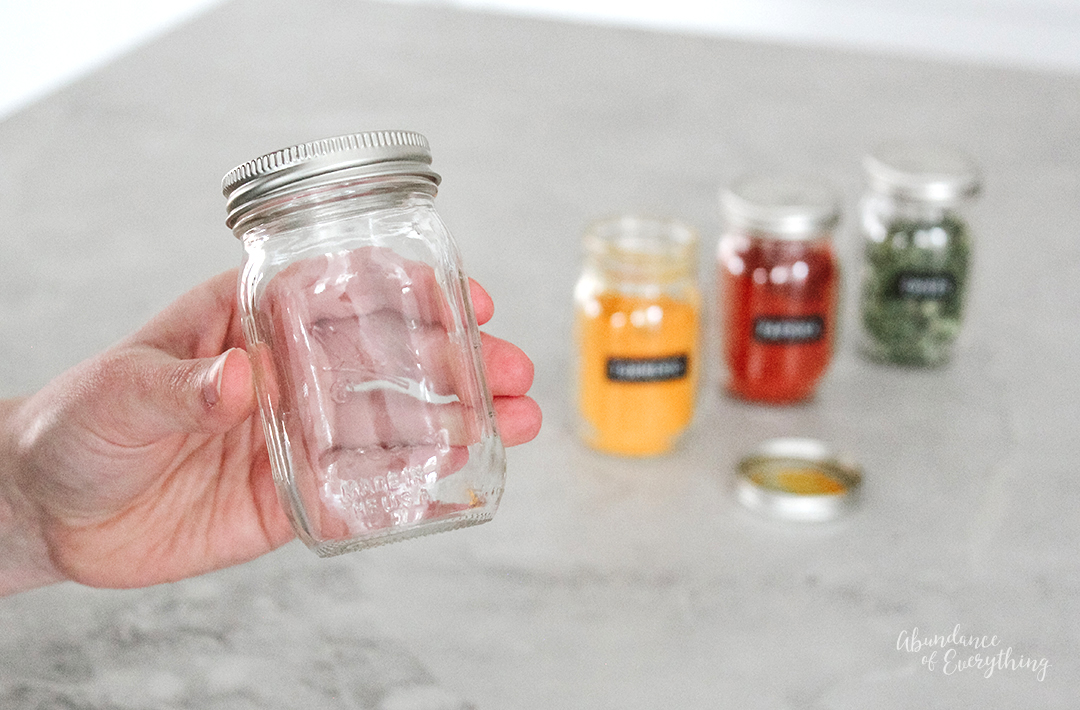 For being such little jars, they surprisingly hold a lot and the wide mouth is great for measuring spoons. The glass jars do have the standard Ball® logo and measurement markings on the front and side of the jar, but the back is smooth; which is perfect for labelling.
FREE PRINTABLE LABELS for your containers
I said I would provide the labels so here you are. Simply download the label PDF and print them on an 8.5" x 11" full sheet label.
I recommend using water resistant labels or removable labels, for easy container switching.
Download Labels
Have fun organizing!
xo
Caitlin
Pin this blog post so you can easily find it later!