Summer is finally here and what better way to enjoy the outdoors with family and friends than some classic yard games.
In this do-it-yourself project, you will learn how to create your own dice themed yard games. Let's take the classic Yahtzee and Farkle dice games and turn them into Yardzee and Yarkle. Two different games in one fun yard game bucket!
Don't quite remember the rules to Yahtzee or Farkle? No Problem, we all forget things. You can find the Yahtzee rules here, and Farkle rules here.
What You Will Need:
4 x 4 Wooden Posts – If you have scraps, use them! (Home Depot)
¾ Inch Cove Bit – (Lee Valley, or somewhere cheaper)
1 Bucket with a Lid for Storage – (Walmart)
Paint and/or Stain
Mod Podge (Michael's)
Paint Brushes
Sandpaper and/or an electric sander
Custom/Handmade Score Sheets
Clipboard (Dollarama)
Dry Erase Markers (Dollarama)
Laminator
And if you want to get really fancy like I did…
Vinyl (You would need a vinyl cutting machine for this step, or simply use a water resistant label – Avery sells these)
Step 1: Measure and Cut the 4 x 4 into 6 Blocks
Carefully cut your 4×4 into blocks. Not every 4×4 is exactly 4", so it's important to measure your height to determine how big your width will need to be in order for them to be somewhat perfect blocks (dice). My 4×4's height was about 3.75" so that determined my width to be 3.75" as well.
You will need to make 6 dice. Only 5 dice are needed to play Yardzee, but you will need 6 to play Yarkle.
If you have any scrap 4×4's lying around from another project, now is the time to use them! It doesn't matter if the wood is dented or cracked because the paint covers everything nicely. Keep in mind, you will be throwing them around so eventually, they will get cracked or scratched.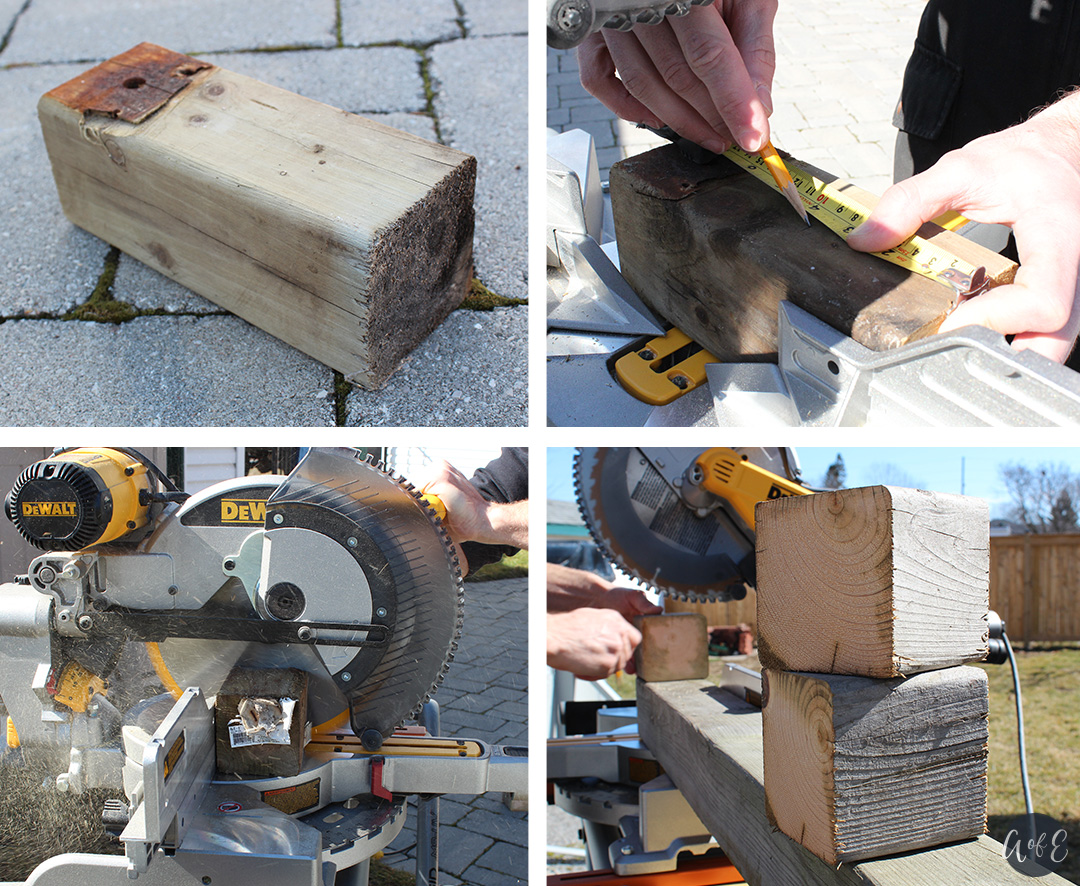 Step 2: Router the Dice Edges
Take each dice and router the sharp edges. You should end up with slightly round, smoother edges. The rounded edge size is totally up to you and your personal preference. I prefer smooth edges so they don't feel as sharp when I'm throwing the dice around.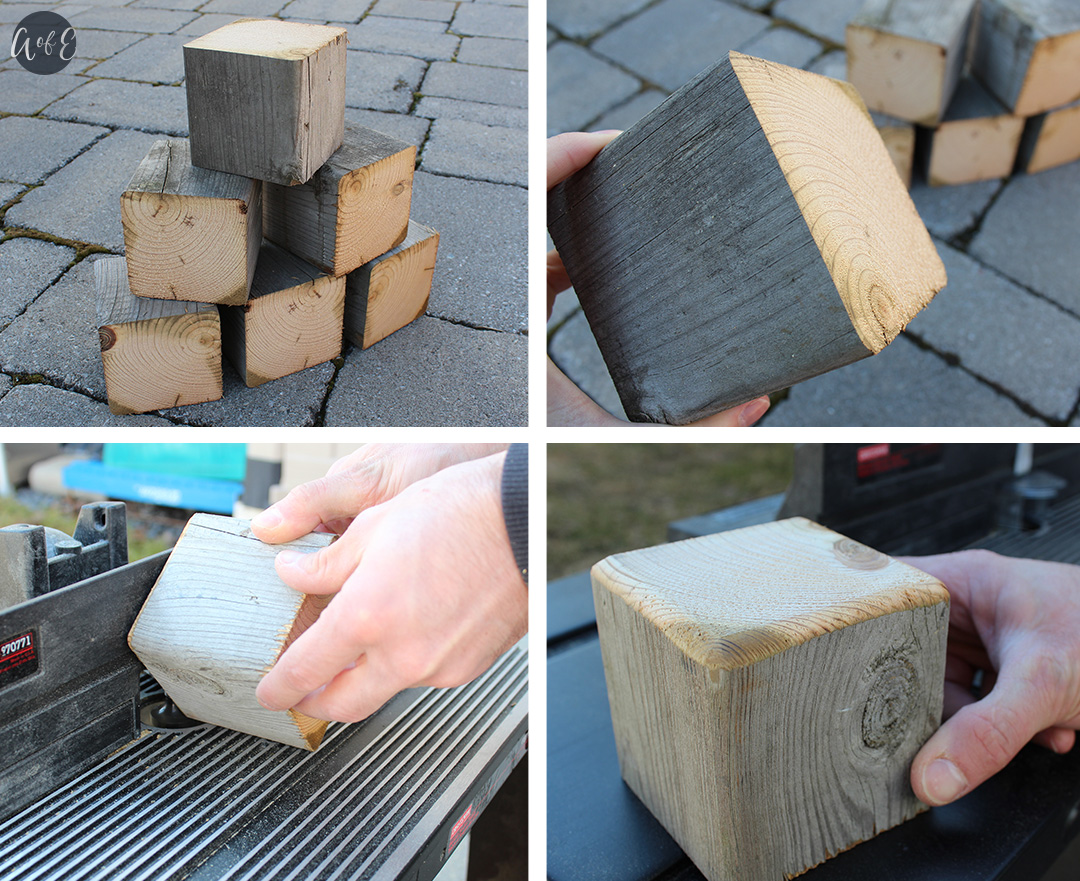 Step 3: Draw the Dice Dots
Freehand draw or create a stencil to draw the dots on your dice. I chose to create a stencil. There is a correct way to position the dots on the dice, I'm just not 100% sure what that is. When drawing the dots on my dice, I made sure each opposite side added up to 7. For example; 3 dots on one side and 4 dots on the opposite side.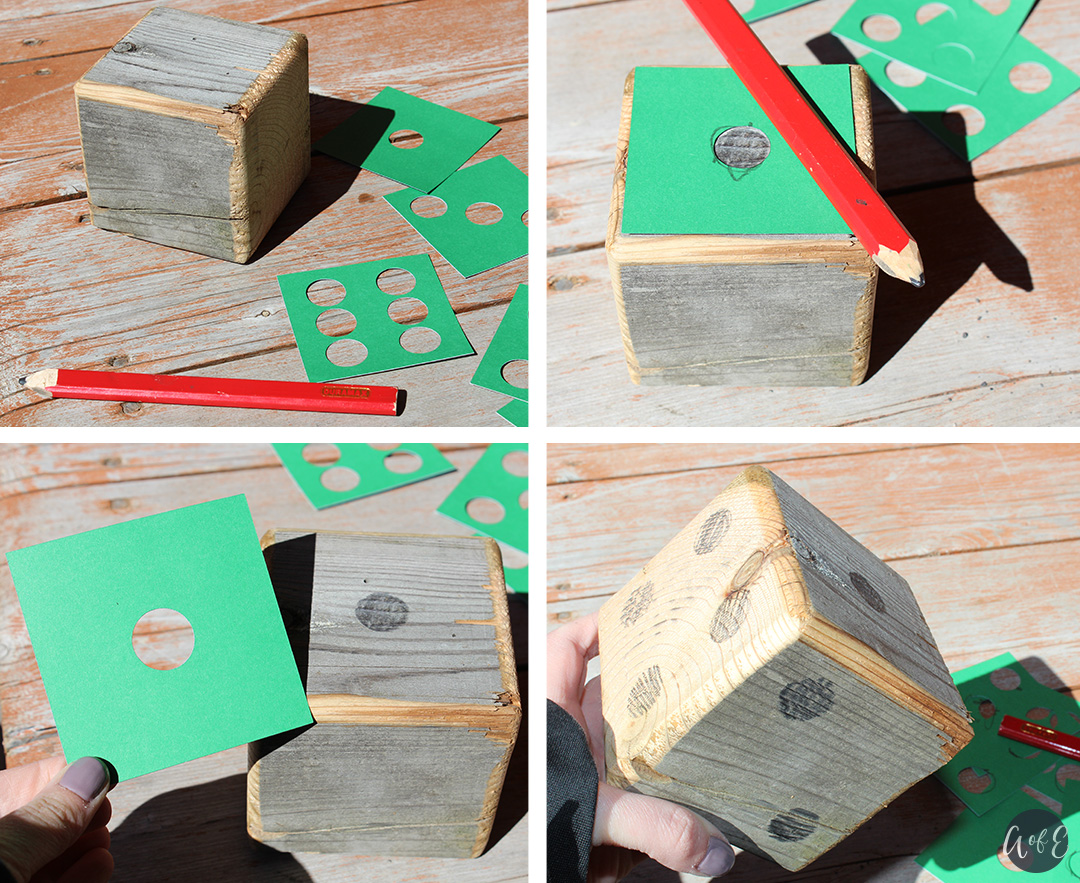 Step 4: Cove the Dice Dots
Using a ¾ cove bit and a drill press, drill the dice dots to create small indents in the wood. Don't go too deep; just enough to see that there is an indent. Repeat this step for all the dice dots.
You do not have to use a cove bit. Anything that will slightly indent the wood will work.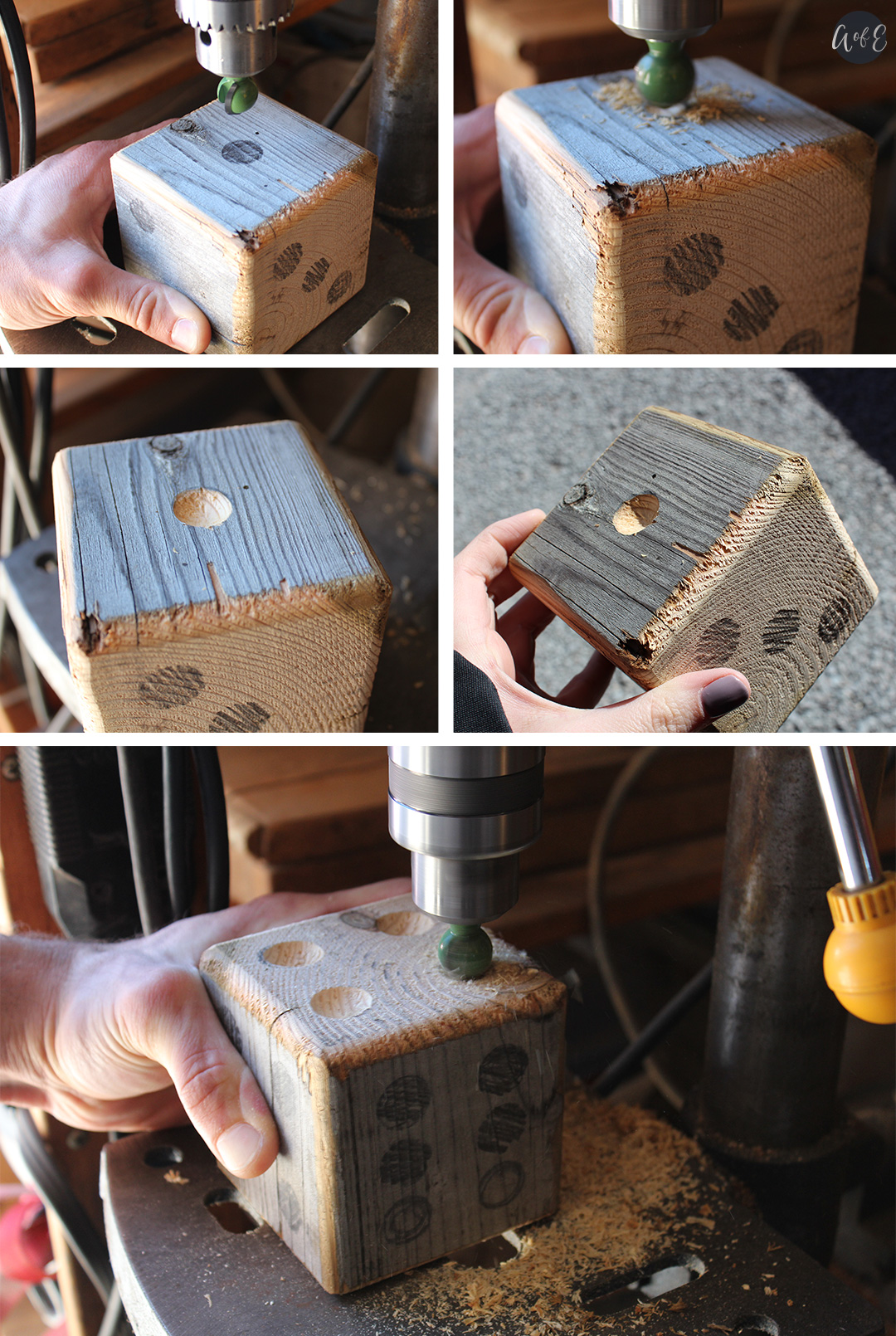 Step 5: Sand the Dice
With an electric sander, sand all faces and edges of the dice. You may want to sand the dice dots as well with normal sandpaper. The smoother, the better! You won't want wooden slivers in your hands from throwing the dice.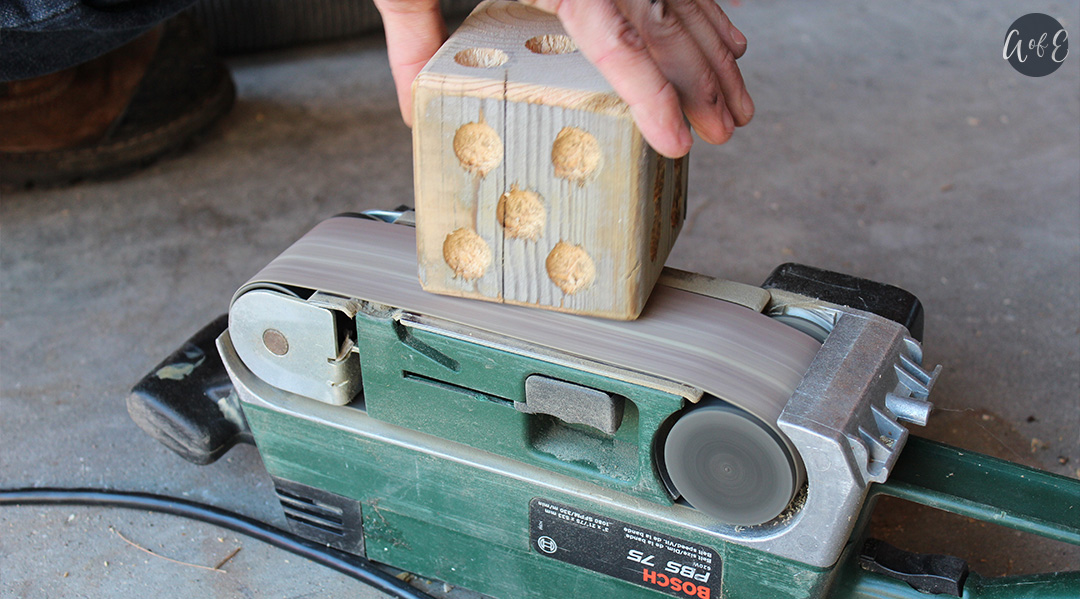 Step 6: Stain/Paint the Dice
This is the fun part! Play with colours and pick something that will stand out against the green grass. I have made other dice sets blue, black and red but for this set, I chose to stain the dice a deep brown.

Step 7: Paint the Dice Dots
Carefully paint the dice dots. For this set I chose to paint the dots white.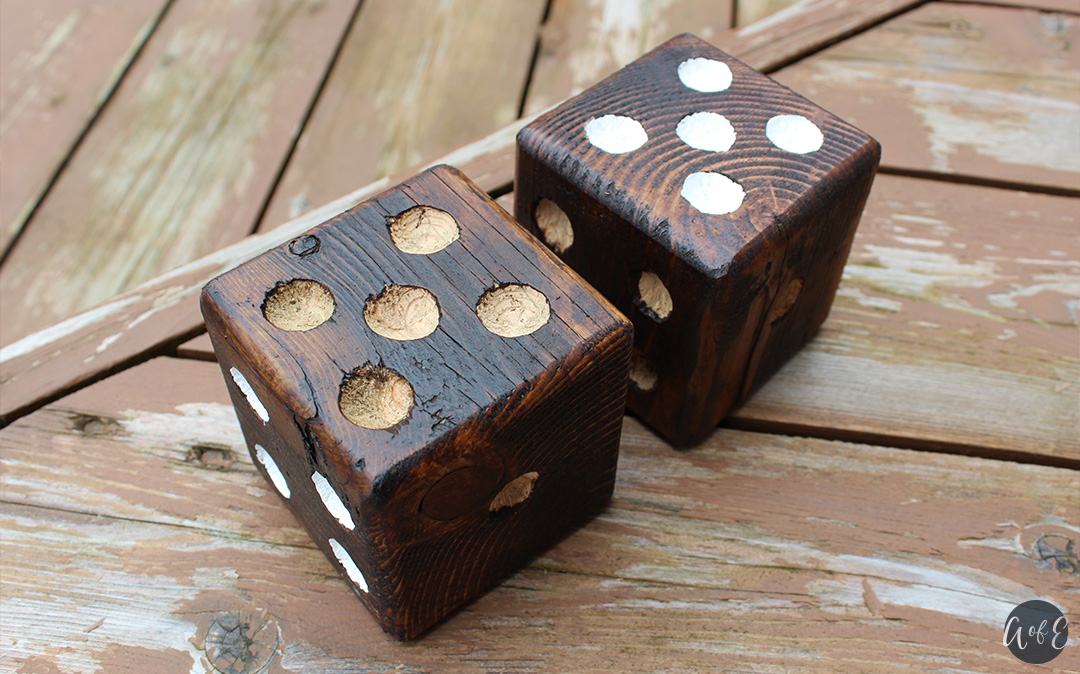 Step 8: Clear Coat the Dice
Once the paint has dried, clear coat the dice for added protection. I've clear coated the stained and blue dice in the picture with glossy Mod Podge. Alternatively, you can use a matte Mod Podge if you prefer a matte finish.

Step 9: Create the Score Sheets
I created my score sheets in Adobe Illustrator, but you can use any software that you are more familiar with, such as Microsoft Word. Feel free to personalize these with a family name!
If you'd like to use my score sheets instead of creating your own, click here to purchase them from my Etsy shop. If you're looking for both the Yarkle and Yardzee PDF/JPG Score Sheet files, add them both to your cart and use Coupon Code "YARDGAMES3" to save $3 off your purchase. (You'll also receive the logo files as an added bonus!)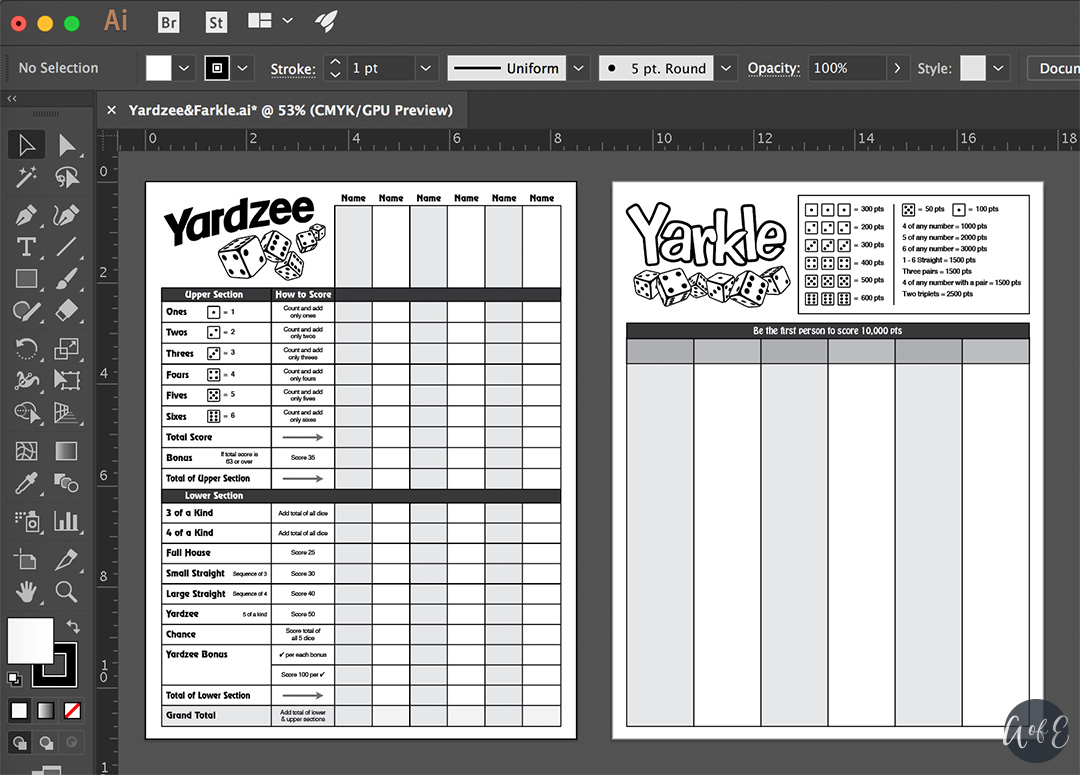 Step 10: Laminate the Score Sheets
To save trees; print your score sheets and laminate them back-to-back. The lamination turns the score sheet into a dry erase board so it is reusable for every game! One side is Yardzee and the other side is Yarkle!
Optional: Paint the clipboard to match your dice.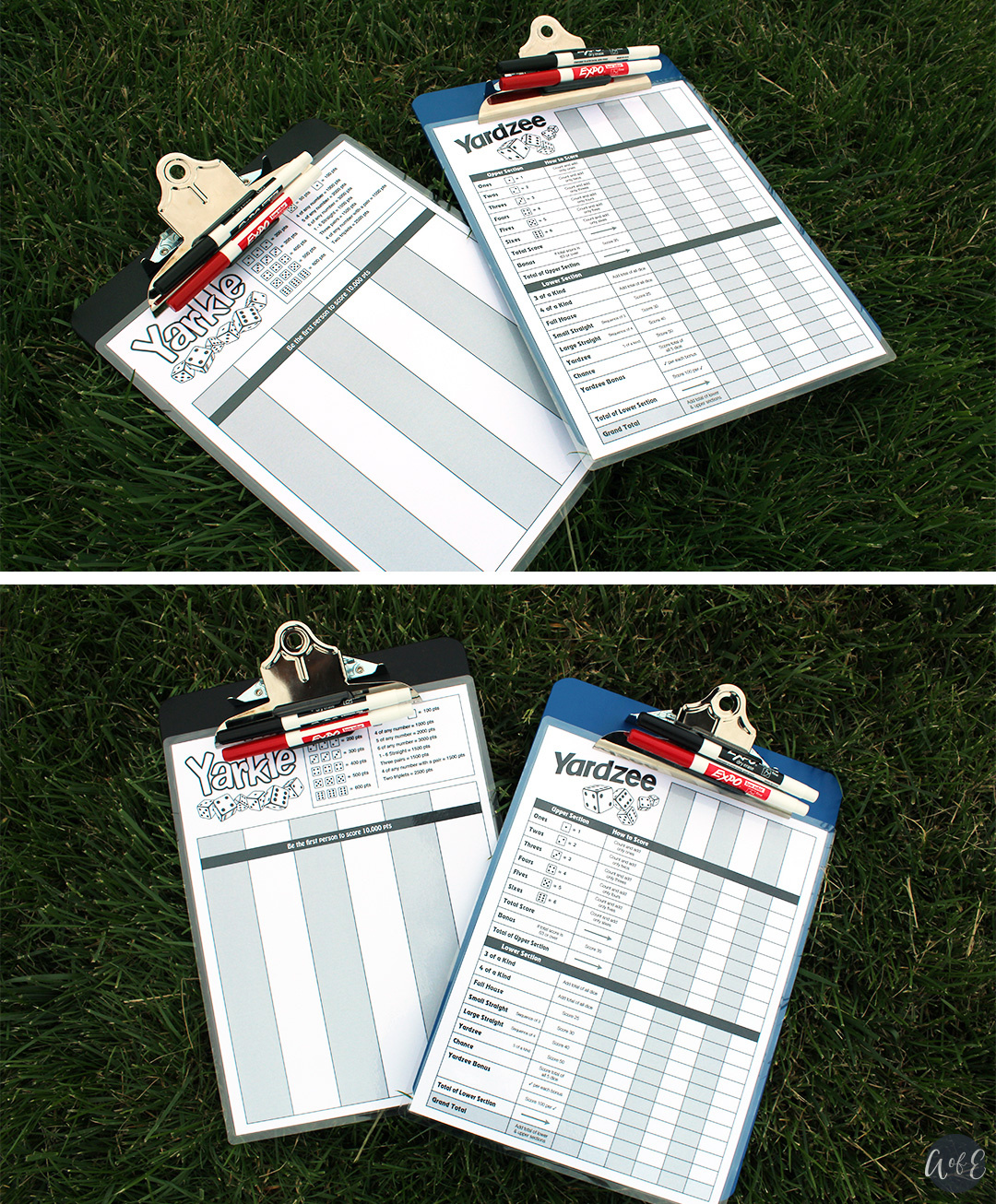 Step 11: Apply Vinyl to The Yard Game Bucket
 I have a Cricut, which I am obsessed with, so I created the vinyl stickers in Adobe Illustrator and then uploaded them to Cricut Design Space to cut them. I applied the Yardzee vinyl to one side of the bucket and the Yarkle vinyl to the other side of the bucket.
If you'd like to use my Yarkle and Yardzee images for your own project, you can purchase them from my Etsy Shop. If you're looking for both the Yarkle and Yardzee SVG, PNG or EPS files, add them both to your cart and use Coupon Code "YARDGAMES3"  to save $3 off your purchase. (You'll also receive the Score Sheet files as an added bonus!)
If you don't have access to a vinyl cutter and still want to do this step, you can use a water resistant label. Avery sells self-laminating ID Labels online, which would also work perfect for identifying your bucket.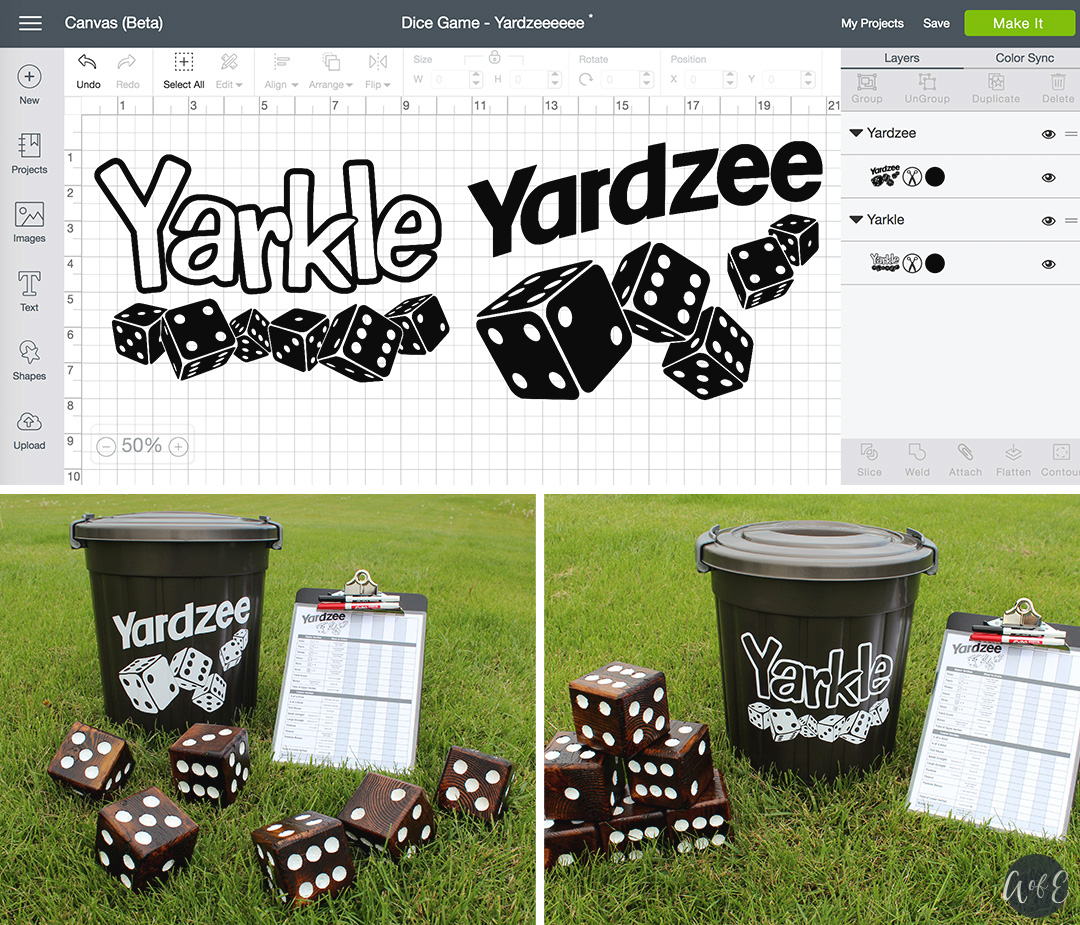 Finished Product: Yardzee and Yarkle Yard Games
Here are a few pictures of the finished yard games.
Feeling extra Canadian? Why not make a red and white dice set! Perfect for Canada Day celebrations!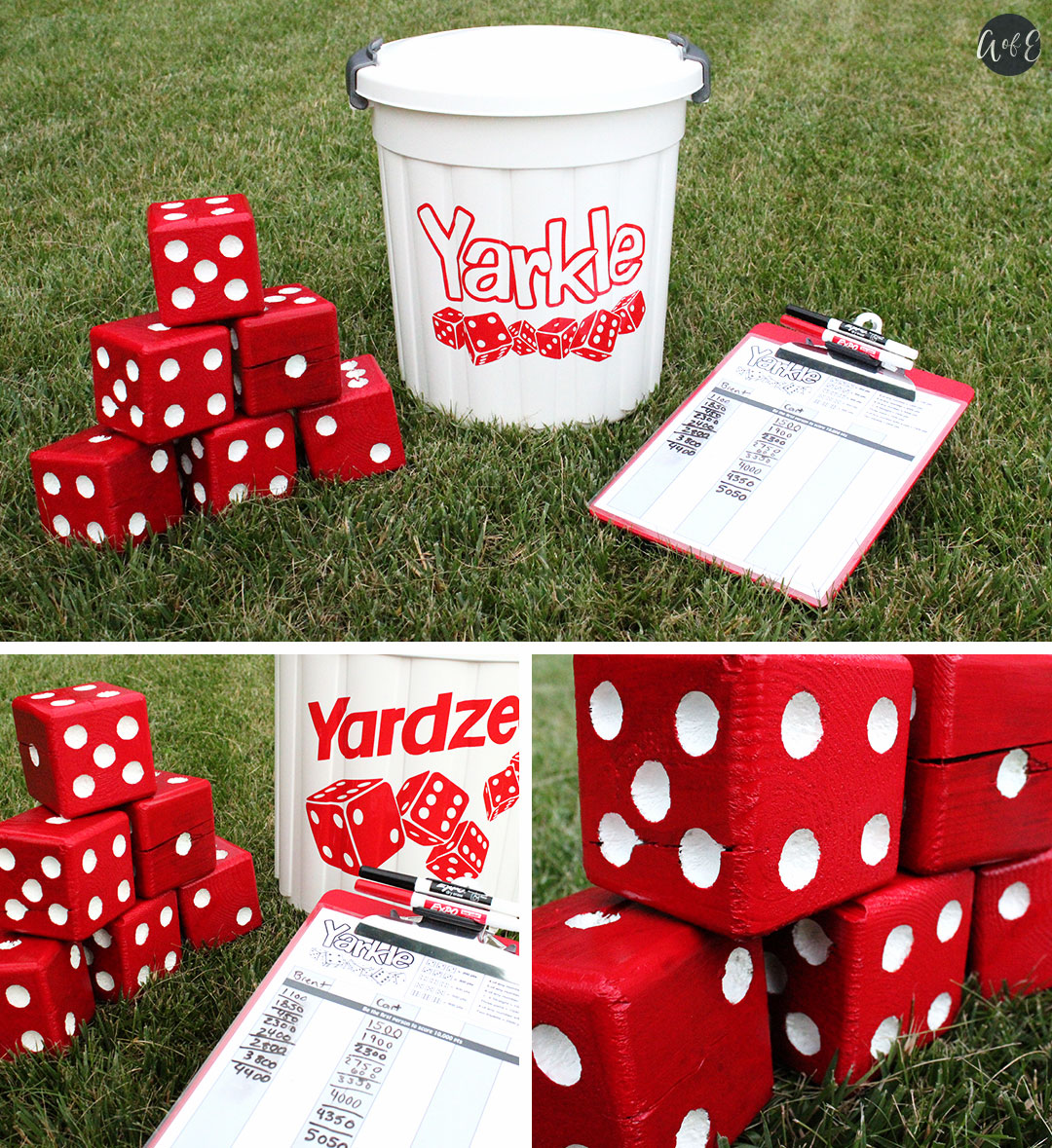 Or Maybe try a Green and Black dice set!